Questions for the candidates?
Got things you want to ask the candidates? You can pose questions using our Facebook Q&A thread. Alternatively, send your questions to committee@spectrumdevon.org.uk and they'll be passed on to the right person; answers will be sent to you and shared online.
Chair: Katja Frisinger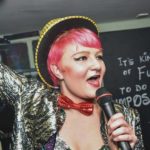 I'm Katja (they/them) and I'm running for the role of Chair. I joined choir just over a year ago and immediately fell in love with it. Shortly after, I joined the committee as the Publicity Officer. I am a strong advocate for an intersectional approach to social change, and at my heart try and make the spaces I'm a part of accessible to people of all genders, sexualities, races, class, and abilities. Between my experience, and the mentality behind it, I believe I can make excellent contributions to the Spectrum committee.
Since joining the committee, I feel I helped the choir in a variety of ways. I increased our usage of social media, particularly on Facebook, so that current members and the public would be able to keep up to date with Spectrum's activities. I did so by making more Facebook events and posts, and always being ready to answer questions should there be any confusion. We also were able to utilise this platform so that our members could voice their opinions and concerns, as well as gauge feedback and availability through polls. Overall, I have used my role as Publicity Officer to improve communication between everyone involved in the choir.
A lot of being on committee involves working in areas that aren't specifically under yours, or anyone's, job role. As a committee member, I orchestrated much of the logistics for Spectrum's trip to London to sing with the Pink Singers, which was our first performance outside of Devon. This required liaising with the committee there, as well as our own team, and feeding back information and answering questions to the members of Spectrum. I've also helped in formalising a lot of our procedures (such as this AGM/Election!) in hopes of making things clearer for our members, and also for the ultimate goal of potentially becoming a proper charity. In general discussions of logistics or issues the choir faces, I believe my comments have been insightful and have helped us reach solutions quickly and effectively.
Going forward, I have many ideas for Spectrum. I'd like to implement a survey for the end of each term so we can get feedback from our members on what is and isn't working, and how to improve going forward. I also want to improve the committee's visibility so that members of the choir and public know who to contact with any issues, proposals, etc. they might have, and we will be able to quickly address problems, or embrace new opportunities! I'd like to create more content for our social media platforms. I want to connect more with local LGBT+ groups so that we can work together to have more opportunities to perform, but also to celebrate our community. My biggest wish is to improve the communication between the committee and the member of the choir. This will be done by embracing more channels other than Facebook, such as email and other social media platforms, as well as by having a better informed and planned committee. I'd like to be able to release information such as timetables, performances, etc. well in advance so that members can plan accordingly, and this will be achieved by taking initiative to ensure we know that information, and improving communication within the committee itself.
Spectrum is a hugely important part of my life, and I love working with the committee to keep us not only running, but thriving. I'm so excited to see where the choir goes from here, and I hope you will consider me when voting for Chair.
Treasurer: Zoe Collingwood
I would like to put myself forward as treasurer because I am currently working towards my AAT exams (accountancy) and thus feel that I will have ample qualifications to handle the finances for the choir.
I also have extensive experience with working on a committee, including the legal obligations required to run as a charity. I have been a chair of a PTFA, and a governor of a primary school. Both these positions require a solid understanding of how committees should be run and the legal obligations that are required.
I do not have any bankruptcies or similar that would prohibit me from taking up such a post and because of my work as a teacher, I have undertaken several DBS checks but would happily take another for the choir.
Being able to turn up on a Tuesday and sing is a privilege, one which requires a great deal of work behind the scenes…I am up for the challenge of making sure our Tuesdays can continue.
Secretary: Natasha Douglas
I have been part of spectrum for about 3 years now, and I have very much enjoyed being secretary over the past year. I would be delighted to continue in this role this year, and will bring all my experience and practice of minute-taking gained the last year!
Publicity Officer: Katja Frisinger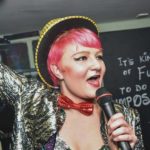 I'm Katja (they/them) and I have acted as the Publicity Officer for a year with Spectrum, as well as held the role at the University of Exeter Feminist Society, and the University of Exeter Socialist Society. I am hoping to continue in this role for the choir. I have extensively detailed my prior impact in this role and my future plans for the choir in my statement running for Chair, so I'll endeavour to not repeat myself here. I hope I will have your vote for Publicity Officer.
Facility Officer
No applications.
It's proposed that the tasks and responsibilities for this role are shared among the committee as required.
Wellbeing Officer: Natasha Douglas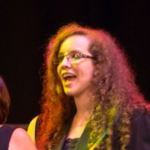 Spectrum is not 'just' a choir. It's a community in the truest sense of the word. I feel very strongly that everyone has a right to feel safe, heard, and supported in the choir, and that's why I'm standing for the role of Wellbeing Officer.
Having been a member of Spectrum for around 3 years now, and a member of the committee for the past year, I understand the importance of this role and the responsibility that would come with it. Outside of choir, I work for a local charity and I do a lot of work around accessibility and inclusion, and I think there's a lot of overlap.
In the past year as a member of the Spectrum Committee, I have started working on a complaints procedure and, along with the rest of the Committee, a code of conduct, and I would like to continue with this in work in the new role. They may not sound like the most exciting things, but they are essential in making sure that every voice is heard and every effort made to ensure the safety and support of all our members.
But more importantly than any of the above, I believe I'm someone who's approachable and I really do care. And I think that's exactly what we need from any Wellbeing Officer.
Wellbeing Officer: Annie Thompson (joint with another candidate)
This is an application to be joint wellbeing officer with the other person you vote for. (If in doubt, you can vote for Natasha. She'll be pretty great.) Why? Sometimes life and being LGBTQI can throw a lot at us (including committee members). I'm applying to be a second wellbeing officer because I believe we should be able to respond, and support you, promptly if you need it.
I know many of you will identify with me when I say Spectrum has been a midweek escape, a creative outlet, a place to be valued for your particular type of LGBT quirkiness, and even a family sometimes. I know that everyone here believes Spectrum should be welcoming to all LGBTQI folks, and a safe space for us all. I want to work with you and the committee to address any and all issues that may make it difficult to participate fully in Spectrum: be they finances, ensuring trans and gender-nonconforming folk are safe and respected, physical accessibility, making spaces autism-friendly or quiet-person-friendly, or just making sure you're ok when it's a difficult week.
Secondly, I want to work with the committee make sure we have bullying and equality/ accessibility strategies that are fair, work well, and keep more-vulnerable people safe. (Even though we hope to never need them).
I believe I have a lot to offer: I have personal experience of complex disability, mental ill-health, negotiating the NHS, and as a survivor. These things make me… quite determined… about accessibility, for everyone.
For the past 18 months I have been (one of three) wellbeing officers for an online community of around 70 queer young adults. My job includes everything from listening and advice, through housing, leaving abusive situations, to helping access urgent medical treatment. Having worked as a healthcare assistant and medical student for the past ten years, I'm also pretty sensible, and extremely good at listening. I also have experience as a trade union representative.
Most importantly, what Spectrum is and can be truly matters to me. If you don't see me in the pub my body is likely rebelling, but I'm nice and approachable, very good at coffee and chats, and only rarely *not*online.
Membership Officer: Josh Smith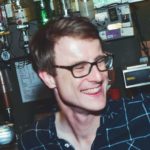 Since joining the choir four years ago, it has grown to become a huge part of my life. I treasure the connections and friendships I've made, and the strong sense of community that I've found here.
I've been on the committee for some time, and being involved in running the choir, and seeing how we've grown and what we've achieved have been absolutely inspiring.
This year – and our performance with the Pink Singers – are a particular highlight and I'm so proud of what we have achieved together.
Having been Chair for some time, I think it's only fair that somebody else have the opportunity to lead Choir, and I'm delighted that Katja has put themself forward for the role. They are well organised, enthusiastic and motivated, and I'm sure will do an excellent job.
I'd love to continue supporting the choir, by keeping track of membership records, monitoring attendance, and building our membership database. In particular, I want to better plan our communications and use our database to send more regular newsletters and updates.
I have good technical skill and attention to detail, and in my work at the University, I look after our (huge!) database of alumni records; I'd love the opportunity to apply my skills on a smaller scale, where I can make a real impact to support something as meaningful as choir.
I hope you'd support my application to this role, and Katja's application as chair.