Due to our upcoming performance in London, we have changed our timetable slightly to add more rehearsal times.
We will have 3 sessions (May 29, June 5, and June 12) that are only for those who are performing with The Pink Singers in London. We hate to have to leave anyone out, but we need to do this in order to be extremely polished for one of our biggest performances to date.
Everyone is still very welcome to our two drop-ins on May 15 and 22, and to join us for another committed term June 19-July 17, before we take a break for summer!
If you are performing with the Pink Singers in London, attendance to both drop-ins and the 3 session mini-term is mandatory. If there is a reason you cannot attend any of these, please get in touch with Emily as soon as possible.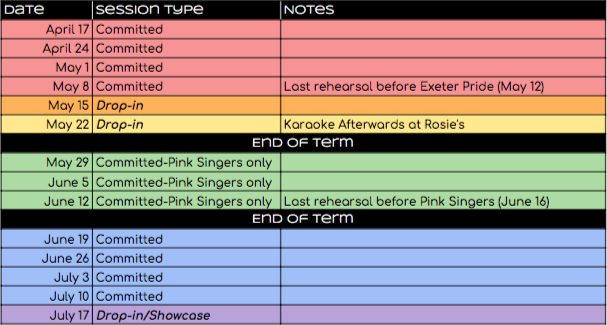 The full timetable and term costs are available to download here.
We never want cost to be a barrier for anyone joining the choir, so if this is an issue, please get in touch.
Please also join us at Rosies after the session on May 22nd to celebrate another successful Spectrum term!